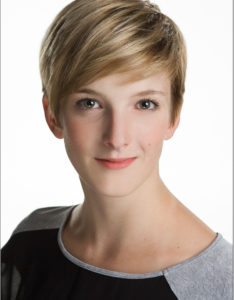 Janke Erna Kolb, 26, who studies Strategic Market Creation at Copenhagen Business School, has been awarded the District 13 Jane M Klausman Women in Business Scholarship from Zonta Intenational at a ceremony in the Zonta Club of Copenhagen I on May 1, 2018.
The Zonta International Jane M. Klausman Women in Business Scholarships, first awarded in 1998, are designed to encourage women to enter careers and to seek leadership positions in business-related fields in their communities and throughout the world. The Jane M. Klausman Women in Business Scholarships look to the women of today to be the leaders of tomorrow.
Ms. Janke Erna Kolb took her Bachelor of Science in International Business from Maastricht University in 2016. She is now studying for her Master's Degree at Copenhagen Business School.
In Maastricht she was among the top 10 percent and at CBS she has finished two big activities, "Marketing Research in Innovation Processes "and" Marketing, Creativity and Innovation ", both with top marks. Both activities demand strong analytical skills and professional knowledge plus team spirit and creativity, and according to her professors she has excelled in communication and leadership. She has also worked in the European Headquarters of Nike and with the Danish pharmaceutical company Novozymes in Bagsværd, and spent a semester at Shanghai Jiao Tong University.
Janke Kolb has also been selected to the CEMS Master in Internationel Management, and in this connection she just spent a semester at the esteemed UNIVERSIDAD ADOLFO IBÁNEZ, in Santiago, Chile.
Janke Kolb is German by birth and now lives and studies in Copenhagen. She also received the JMK Women in Business award from the Zonta Club Copenhagen I and the Zonta Denmark JMK Women in Business Scholarship. In her spare time she has taught German to Chinese students, been a volunteer in a sports club and in dance schools, plus been buddy for exchange students in Maastricht and active at the CBS Open Day arrangements.
It is a big encouragement to receive a scholarship from Zonta, says Janke Kolb and continues: In a still more globalized but politically unstable world it is more important now than ever before to be open to different cultures and nationalities. As a leader I will strive to be capable, open and creative in my engageent with different cultures and nationalities – a truly "global citizen".
Zonta International, with world headquarters in Oak Brook, IL, USA, is a leading global organization of professionals empowering women worldwide through service and advocacy. The Jane M. Klausman Women in Business Scholarship Program is one of many programs for women and girls sponsored by Zonta International. The Scholarships are funded by voluntary contributions to the Zonta International Foundation.

On this site we will publish press releases and pictures free to use for the press.