Topstudent from CBS receives D13 Jane M Klausman Women in Business Scholarship
Line Wedam Fruergaard who studies M.Sc. International Marketing and Management at Copenhagen Business School (CBS) has been awarded the 2018 Jane M Klausman Women in Business Scholarship from Zonta International District 13 – as well as the JMK WIB scholarship from ZC Copenhagen I and Zonta Denmark. All told this means that Line received more than 3000 USD to cover extra expenses for her final study year both in Copenhagen and New York.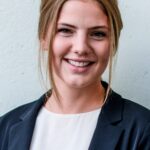 The Zonta International Jane M. Klausman Women in Business Scholarships, first awarded in 1998, are open to women enrolled in at least the second year of an undergraduate program through the final year of a Master's program in business, leading to a business management career. The program is designed to encourage women to enter careers and to seek leadership positions in business-related fields in their communities and throughout the world. The Jane M. Klausman Women in Business Scholarships look to the women of today to be the leaders of tomorrow.
Line Wedam Fruergaard was chosen for the D13 M. Klausman Women in Business Scholarship because she has set herself high goals and is ardently working to achieve them. She gets top marks in her study programmes and has also held student jobs with Ernst & Young in Copenhagen, PFA Pension and McKinsey & Company. She is also very engaged in the student life at CBS and has been a driving force in CPH Management Consulting Club at CBS, where among other intiatives she has been putting focus on the role of women in the workplace and created the event "Women in Business". For her Bachelor's degree she followed the elite study in International Business & Politics at CBS, graduating in 2017. This included half a year of study  at University of Richmond in USA. During her MSc she has been an exchange student at Columbia University in New York.
Line graduated top of her class from Virum Gymnasium in 2012 and was chosen by ZC Copenhagen I as Club Winner for 2018 last summer, and later she got the Area Denmark prize , before finally getting the District Prize from Zonta International.
"It means a lot for me to get this encouragement from Zonta International", says Line Wedam Fruergaard. "I have been enrolled in the EY "Women in consulting" mentorship programme, and I strongly believe in the importance of women supporting each other in achieving professional goals, so I aspire to make an impact for other women in business.  In the future I aspire to start my own consulting firm with expertise in consumer behavior and digital customer strategy".
Zonta International, with world headquarters in Oak Brook, IL, USA, is a leading global organization of professionals empowering women worldwide through service and advocacy.  The Jane M. Klausman Women in Business Scholarship Program is one of many programs for women and girls sponsored by Zonta International. The Scholarships are funded by voluntary contributions to the Zonta International